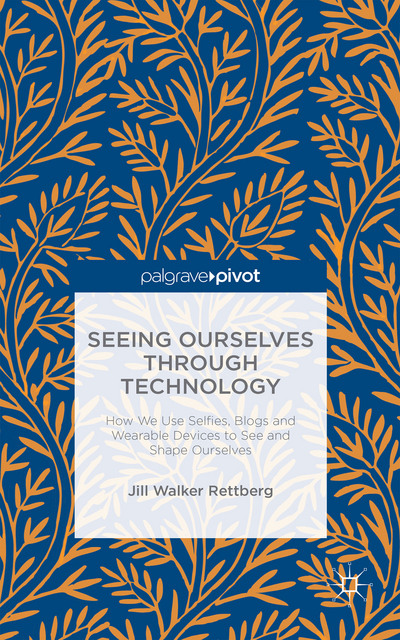 I just finished reading Jill Walker-Rettberg's 2014 book Seeing Ourselves Through Technology: How We Use Selfies, Blogs and Wearable Devices to See and Shape Ourselves. There are so many things I love about this book, but because I am so passionate about open education resources and Creative Commons licensing, the first to me is that it is freely available under a Creative Commons license from a major publisher.
Walker-Rettberg has been an important part of my thinking on technology for some years now. She brings in to her work scholarship, lucid connections to the humanities, and a personal dimension missing from similar writings on technology. Her work on blogging and hypertext theory are must-reads and because her work is grounded in the humanities, it is always relevant. There is a great intersection in her work of history, literature and philosophy.
The six chapters cover visual self-portraits, filters and filtering, selfies, automated diaries, the quantified self, and a final chapter about privacy and surveillance. Each one of these chapters explores technologies that create a lens through which the self is presented. It is refreshing to read scholarship on selfies that does not just write off an entire generation as self-absorbed – there is so much else going on here. Just as drawing, physical photography and previous art forms have led others to explore and experiment with the presentation of the self, so too with these new technologies. According to an article in the Independent, "For the first time ever there are more gadgets in the world than there are people, including a growing number that only communicate with other machines, according to data from digital analysts at GSMA Intelligence. The number of active mobile devices and human beings crossed over somewhere around the 7.19 billion mark." To think that we can take the old paradigms and apply them to this brave new world is the height of folly. We need this kind of scholarship to help us sort out where we have been and where we are going.
It is a short book covering a broad subject. In her historical run-up to where we are now, I would have loved to have seen something about the importance of letters and epistolary novels and more about the Twitter-esque writings of Samuel Pepys – who now has a Twitter account. Walker-Rettberg is a good antidote to the classist fear of technology and modern culture found in writers like Sven Birkirts who believes that you are not really reading a book unless you are reading it in the same format and cultural milieu as it was written. It is refreshing to read an examination of technological culture written by someone who is not afraid of it. There are echoes here of Barthes and Merleau-Ponty in its focus on the expressive nature of human beings through writing, image, gesture and lived behavior.
Writing like this is critical. In my own field, education technology, there is a common lack of a sense of history. The entrepreneurial culture is mired in the flash of newness. This is why commercial MOOCs, for instance, have been such a huge failure: folks like Elon Musk and Andrew Ng have no sense of where online teaching and learning has come from so they are stymied by the simplest of issues (e.g. online students need support) that were solved in the 90s.
One of the important points I took away from this book is her acknowledgement that technology does not create the image of ourselves but an image. By looking at the images of ourselves that technology provides, we have to bring into question the image of ourselves that we already hold and why we have them. The book discusses how we see ourselves through the lens of data and the last chapter brings into question how we let corporations track and manage that data. I highly recommend this book and look forward to her future work.